The best portable air conditioners are among the most adaptable cooling options since they can easily move from room to room. They are more powerful than tower fans and are more efficient than window air conditioners.
If you don't have central air but still want to bring some cool air into your home but don't want to deal with the hassle of installing a window unit, a portable unit may be the best choice.
If you're looking for an ideal or the best portable air cooler, keep reading to the best portable air conditioner 2023.
1- Midea Duo MAP12S1TBL Portable Air Conditioner
The Midea Duo is one of the best portable aircon that is more effective and quieter than the competing models. It has a self-contained dual-hose arrangement and a powerful inverter compressor.
While most portable air conditioners UK or anywhere else are largely interchangeable, the Midea Duo MAP12S1TBL stands out for its superior cooling performance, reduced energy consumption, and muted operating noise.
The inverter-powered compressor in the Midea provides a constant range of compressor speed, allowing the device to more precisely and efficiently meet the set temperature and humidity levels over a wide variety of environmental circumstances.
This best portable ac also did an excellent job of evenly dispersing the chilly air in the tests, with no more than a one-degree temperature variation between different room parts, the Duo's innovative "hose-in-hose" configuration, in which the exhaust.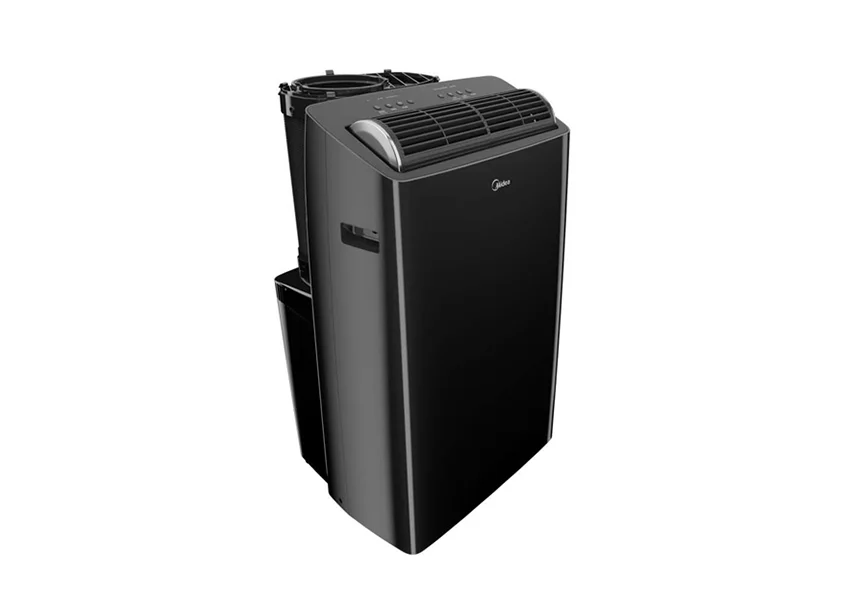 2- TCL 5P93C Smart Series Portable Air Conditioner
This compact air conditioner stands out among other models because of its precise temperature control.
Even though this smaller unit may have slightly different sound and output, we believe in its performance because we evaluated the brand's more powerful 10,000 BTUs SACC unit, which ranked as the best portable air conditioning unit and has ample cooling power for practically any room in the house.
The room reached 65.6 degrees Fahrenheit after the testers adjusted the thermostat to 64 degrees. No other portable air conditioner came even close to maintaining a comfortable environment.
The TCL's air output was also more rapid and had a greater range than competing models but at the expense of the usual noise level.
The experts especially appreciate the unit's WiFi connectivity, which enables operation via a mobile app. However, a remote is included if you'd rather not use the app.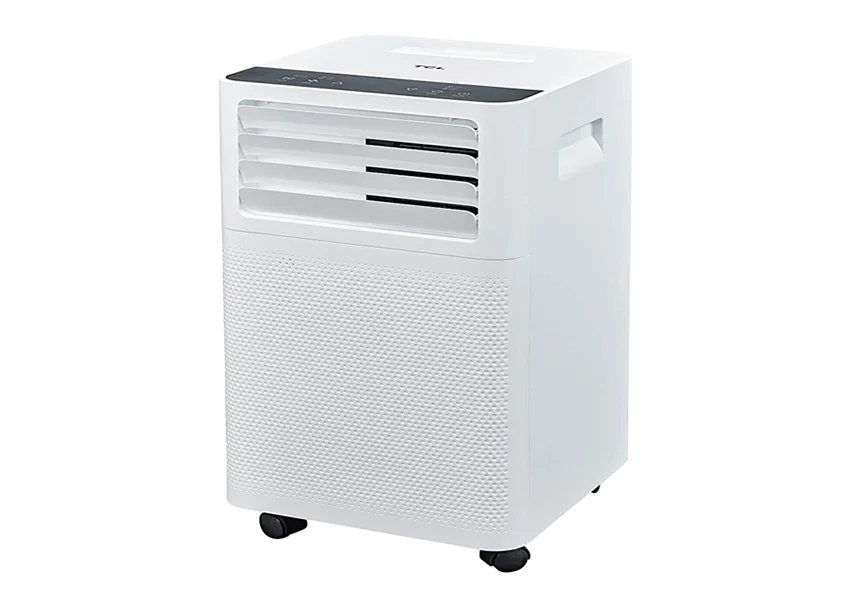 3- LG LP1419IVSM
This best portable air con unit has many helpful additions, such as a dual-rotor compressor that can be tuned to different speeds, an integrated hose that makes installation a breeze, and a handy storage pocket.
If you can't find a portable air conditioner with an inverter-powered compressor like the Midea Duo, the LG LP1419IVSM is a fantastic alternative.
All the same smart-home capabilities are present, and its built-in hose and top-mounted fan mimic human breathing releasing white noise and cool air in continuous, rhythmic bursts.
Although it is more expensive than the Midea and some readers have complained about the timbre of the sound, we have not experienced any of these issues and still consider it one of the best portable air conditioners on the market.
If your air conditioner stops on a hot day, Cold Direct Air conditioning repairs are cost-effective and smart.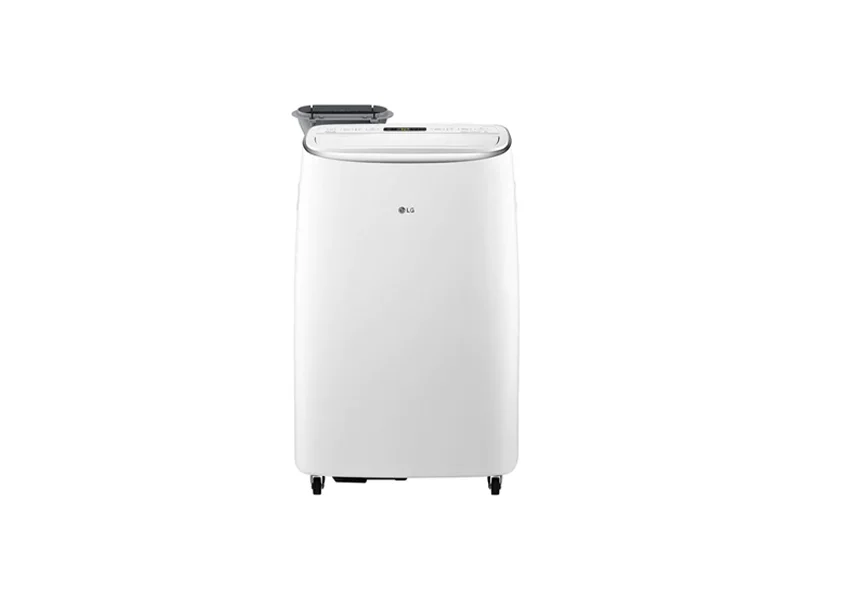 4- DeLonghi PAC-UV Portable Air Conditioner
This DeLonghi is the other best portable air conditioner option if you need to cool off a large space, such as a great room or huge studio apartment.
As its cooling capacity is unprecedented at 700 square feet. It generates some noise at full power, but switching to the quiet mode reduces the noise significantly, making it suitable for use in bedrooms.
This air conditioner was found to be one of the quieter models overall, regardless of operating mode.
The washable filter screen is another feature that has been praised by the experts and is especially useful for those with allergies.
Although its energy consumption research shows that this model consumes more power than some of our top recommendations, we feel comfortable recommending it due to the substantial cooling area it provides.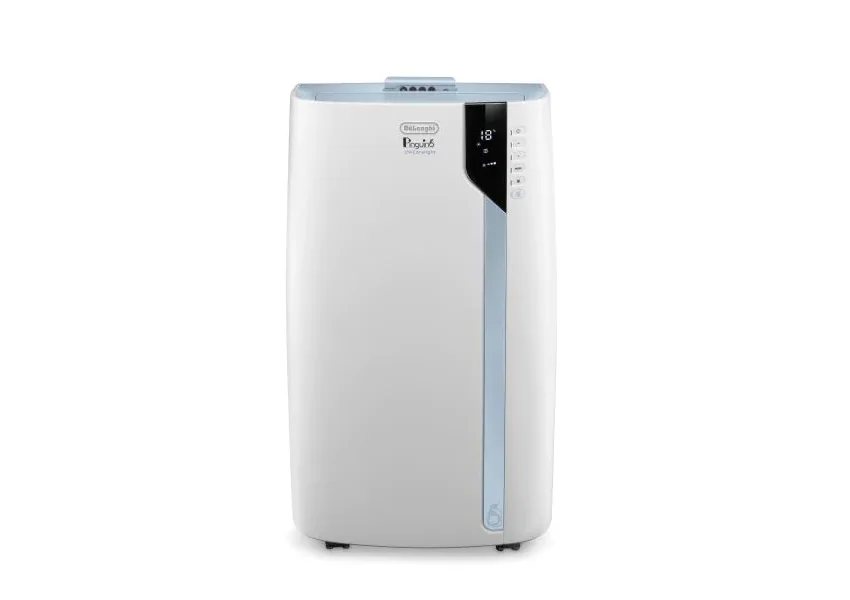 5- Frigidaire Gallery Cool Connect GHPC132AB1
This is the quietest portable air conditioner we have tried despite not being an inverter-based device.
The Frigidaire Gallery Cool Connect GHPC132AB1 surprised us with its quiet operation and its ability to keep the room at a constant temperature within half a degree.
The Midea and the LG inverter models were the most powerful and efficient, but the single-hose Frigidaire portable air conditioner ran quietest in our tests, by around 2 dB. Although it had the same smart-home features, we had some trouble with the way they operated, and the window installation kit wasn't as durable.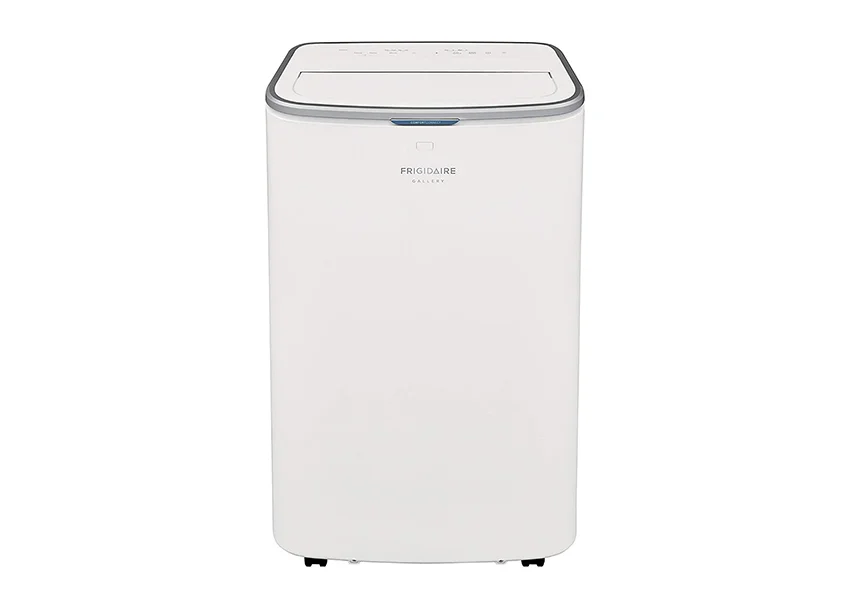 6- Black + Decker BPACT08WT Portable Air Conditioner
An inexpensive option that can handle cooling a small room adequately but not much else. When it came to portability, the Black+Decker performed better than average.
The AC's portability, mobility, and straightforward exhaust ducting setup all played toward our final rating.
20 % of your total grade is based on the results of these three factors. It has one of the best portable ac units, which is not too heavy, and the handles are easy to grasp.
There is sufficient shaping to make them rather ergonomic, though we would prefer a larger size. The Black+Decker's 51.3-pound weight is near the bottom of the pack regarding portable air conditioners. This also makes rolling incredibly easy, as there is almost little resistance. It is also quite easy to maneuver, as it tracks straight while pushing without veering to one side.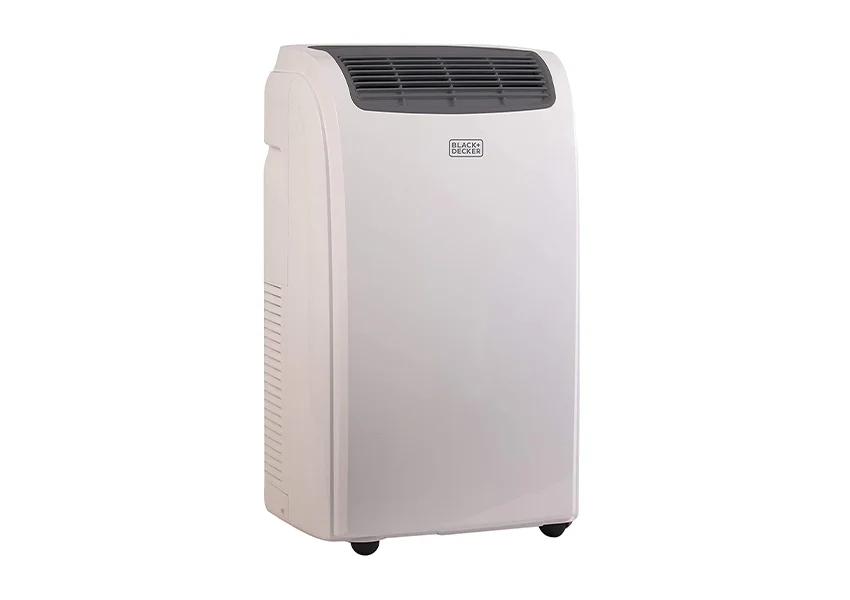 7- Whynter ARC-14S Best Portable Air Conditioner
Whynter ARC-14S is one of the best portable air conditioners. This dual-hose portable air conditioner is known for its excellent cooling performance and energy efficiency. It has a cooling capacity of 14,000 BTU (British Thermal Units) and is suitable for larger rooms. It also features a dehumidifier and fan mode.
For a number of reasons, the Whynter ARC-14S is frequently cited as one of the best portable air conditioners:
Cooling Performance: The 14,000 BTU cooling capability of the ARC-14S makes it fairly strong and appropriate for cooling larger rooms or places up to 500 square feet. Even in hot and humid weather, it can deliver quick and effective cooling.
Dual-Hose Design: The ARC-14S's dual-hose design is a unique feature. One hose is used for intake, and the other one is used for exhaust. By using outdoor air to cool the condenser rather than inside air, this design increases total cooling efficiency. Performance is improved and air pressure balance is maintained thanks to the dual-hose system.
Energy Efficiency: The Whynter ARC-14S has earned the Energy Star designation, proving that it satisfies high energy efficiency requirements. It is built to use less energy while still providing efficient cooling, which can save power expenses and have a smaller negative impact on the environment.
Three-in-one functionality: In addition to cooling, the ARC-14S also functions as a fan and a dehumidifier. The dehumidifier mode aids in removing extra moisture from the air to improve home comfort. During warmer weather, the fan mode can provide air movement and cooling without activating the air conditioning feature.
Installation and Portability: The ARC-14S has built-in handles and caster wheels to make it portable. This makes moving the unit across rooms or to other locations simple. A window or vent for the exhaust pipes and access to an electrical outlet are normally needed for installation, which is also quite simple.
User-friendly Controls: The ARC-14S's digital control panel with LCD display enables quick temperature and setting adjustments. By allowing you to control the device remotely, the provided remote control offers convenience.
Filter System: The ARC-14S's filtration system includes a washable pre-filter and a carbon filter. The washable pre-filter helps the other filters last longer by capturing bigger particles. The carbon filter helps to improve air quality by eliminating smells and possibly dangerous airborne particles.
The best portable air conditioner might change depending on a person's needs and tastes, it's crucial to remember that. Due to its potent cooling, dual-hose design, energy efficiency, flexible functionality, and user-friendly features, the Whynter ARC-14S stands out. Before making a decision, it is usually advised to evaluate several models, take room size, budget, and special requirements into account.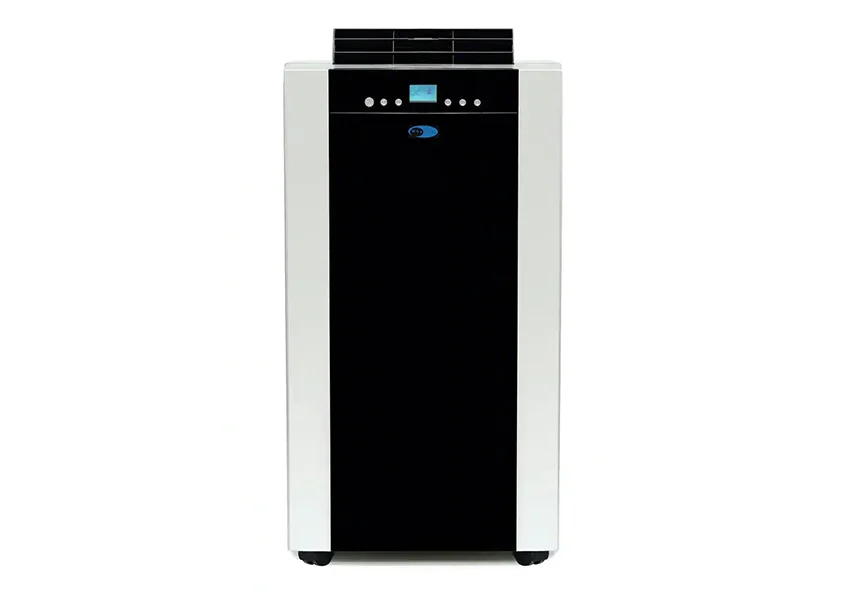 8- Honeywell HL14CESWK Air Conditioner
The Honeywell HL14CESWK is the best portable air conditioner designed to cool rooms in your home or office. This compact air conditioner strikes a compromise between cooling effectiveness and price. It can chill rooms up to 550 square feet and has a cooling capability of 14,000 BTU. It has a digital display, a remote control, and a filter that is washable.
Cooling Capacity: The HL14CESWK has a cooling capacity of 14,000 BTUs, which is suitable for cooling medium to large-sized rooms, typically up to 550 square feet.
Portability: Like other portable air conditioners, it's equipped with caster wheels for easy mobility, allowing you to move it from one room to another.
Cooling Modes: This unit typically offers multiple cooling modes, including cool, fan-only, and dehumidify, providing flexibility in how you use it.
Temperature Range: It can typically cool a room within a temperature range of 61°F to 89°F.
Digital Display and Remote Control: It features a digital LED display for easy control and often comes with a remote control for convenience.
Timer Function:The built-in timer allows you to set the unit to turn on or off at specific times, which can help save energy.
Filter: The HL14CESWK usually includes a washable and reusable filter to help capture dust and particles from the air.
Installation: It's designed to be installed in a window, similar to the Black+Decker BPACT14WT, and typically includes a window installation kit.
Noise Level: Like many portable air conditioners, it may produce moderate noise, which can be more noticeable at higher fan speeds.
Energy Efficiency: The energy efficiency of this model may vary, but it often has an Energy Efficiency Ratio (EER) that's competitive for a portable air conditioner of its size.
Auto-Evaporation System: This unit often features an auto-evaporation system that eliminates the need to drain a water bucket continually.
Design: The HL14CESWK is usually designed with a modern, sleek look that can blend into various home decor styles.
It's critical to compare the Honeywell HL14CESWK to other models according to your unique needs while deciding whether it's the best portable air conditioner. Be sure to take into account aspects like room size, noise tolerance, energy efficiency, and budget. For the most current information and to assess whether this model is the best fit for your cooling needs, you should also read user reviews and seek the advice of experts.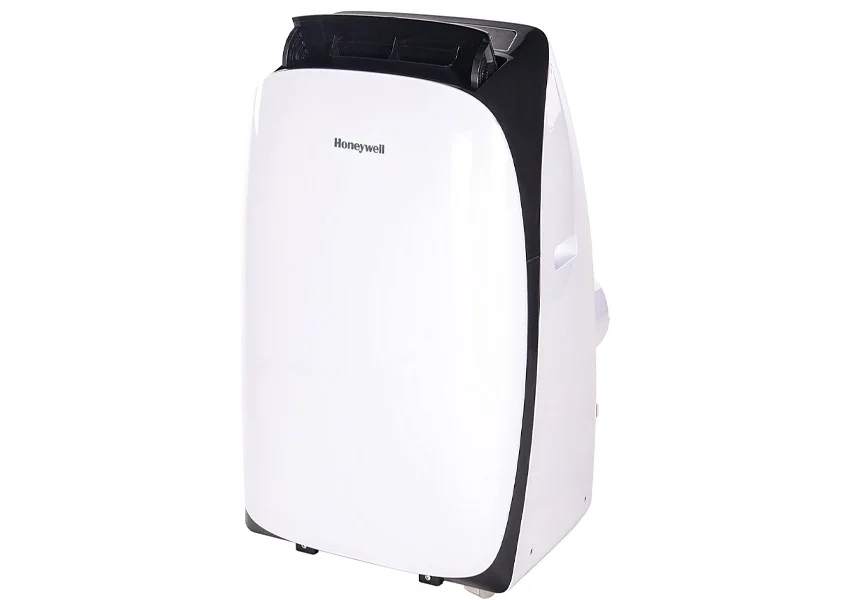 9- Frigidaire FFPA1422U1 portable air conditioner
The Frigidaire FFPA1422U1 is the best portable air conditioner UKand worldwide. Its portable design makes it easy to move about and is intended to chill a single room or space. The following are the main attributes and measurements of the Frigidaire FFPA1422U1:
Cooling Capacity: 14,000 British Thermal Units (BTUs) are the cooling capacity of the FFPA1422U1. This indicates that it can efficiently cool a space that is medium to large in size.
Portable Design:Its caster wheels make it easy to move from room to room and contribute to its portable design. Because of its portability, you can direct cooling where it's most needed.
Temperature Control: You can easily set and maintain the ideal room temperature with the unit's digital thermostat and remote control.
Fan Speeds: You can choose from a variety of fan speeds to suit your needs for cooling and airflow. This promotes a balance between energy economy and comfort.
Dehumidification: The FFPA1422U1 eliminates extra moisture from the air by acting as a dehumidifier. This can assist lower humidity-related problems and improve the comfort of your area.
Timer Function: When the air conditioner goes on or off, you can configure a timer to go off. This can assist guarantee that your room is at the right temperature when you need it and is helpful for conserving electricity.
Sleep Mode: This model and others' portable air conditioners have a sleep mode that progressively modifies the fan speed and temperature to create a more pleasant sleeping environment.
Filter Indicator: This type usually has a filter indicator that lets you know when the air filter needs to be cleaned or replaced. This keeps the unit running smoothly and the quality of the air maintained.
Energy Efficiency: To find out how well a unit cools a space, look for an Energy Efficiency Ratio (EER) rating. Better energy efficiency is indicated by a higher EER.
Window Kit: Portable air conditioners such as the FFPA1422U1 typically feature a window kit that consists of a window panel and hose for exhausting hot air. Hot air is vented outside the room using this.
Please be aware that depending on the model version and any manufacturer updates, certain features and specs may change slightly. For the most accurate and recent information about the Frigidaire FFPA1422U1 portable air conditioner, it's always a good idea to consult the user manual or the manufacturer's website.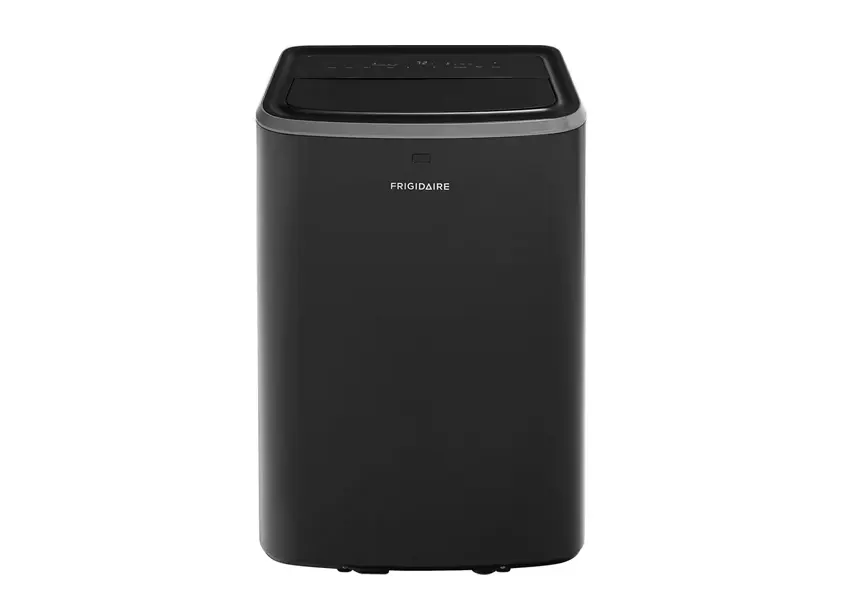 Conclusion
Depending on your demands, the best portable air conditioner may be worthwhile. The mobility offered by a portable air conditioner is a significant selling point compared to fixed window units.
When it comes to commercial appliance repair, Cold Direct is ready to provide you with the best repair service, varying from refrigerators to portable air conditioners in the UK.
Leave every type of portable air conditioner to our efficient, professional technician by dialing 0800 112 34 27 or book a repair.