A multideck fridge is crucial to the success of any food service establishment. There isn't a single retail establishment, hotel, restaurant, cafe, etc., anywhere in the world that doesn't use a Multideck display fridge. This sector has grown and prospered. You can choose from a wide variety of modern refrigerated multidecks.
Because they provide the best possible option for storage and exhibition space, multi-decks for sale are a great fit for enterprises of that size. Various cold beverages, cold meals, and cold milk products exist.
The Multideck Display Chiller is a famous example of retail refrigeration equipment. They are ideal for restaurants and grocery stores that need to store and showcase a lot of food. Large businesses and shopping malls should stock a diverse selection of foods. For that purpose, they need a more eye-catching screen.
What Is a Multideck Display Fridge?
The term "multideck" can refer to various types of multi-level display cooling systems. In most stores, glass-front refrigerators are the standard display chiller cabinets.
By emphasizing various racks in the multi-tiered display fridge, you can ensure your products are well-presented and easy to find.
Every product is presented in an eye-catching manner to pique customers' interest and encourage a joyful shopping experience that will ultimately lead to more sales.
These open-front fridge displays are common in supermarkets and hypermarkets that need to increase the introduction of cold items since they are great for encouraging "get and go" purchases.
Setups are available to hold novel meats, green foods, dairy items, and universally helpful products, indicating that this adaptable hardware can be tailored to meet any display requirement.
Commercial multideck open fridges can be either permanently installed or easily removable. That means everything is contained within the machine itself, and the only external pieces are the wiring and battery pack. The collecting unit/engine will typically be located beneath the base rack.
How to Choose Commercial Multideck Fridge Type?
When choosing a commercial multideck display cabinet, you have the option to select between different cooling systems: remote, integral, or plug-in. Here's a breakdown of each type to help you make an informed decision:
Remote
The condensing unit, often known as the motor, is typically installed on an exterior wall or floor. Pipes filled with refrigerant link this device to the showcase.
Good points with the Remote type:
An even temperature is maintained inside the store by drawing off excess heat and venting it outdoors. Inside the building, you won't be able to hear any of the machinery's sounds. Remote units have reduced overall energy use, provided the installation is done properly. When properly cared for, the lifespan of multidecks can be significantly extended.
With a few notable exceptions, the remote multideck chiller often includes larger screens.
Integral or Plugin
The equipment has no exterior parts or connections other than the power cord and plug. Typically, the condensing unit and motor are concealed beneath the lowest shelf.
Good Points with using integrated devices that plugin:
Purchasing plug-ins or integral pieces of equipment can maintain low starting costs.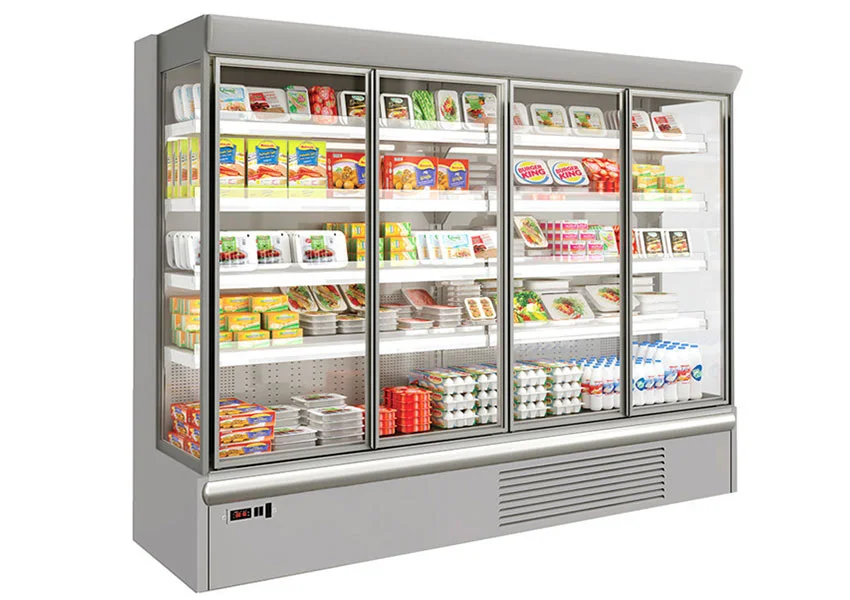 How to Install Commercial Multideck Display Fridges?
If you're thinking about installing a multi-level chiller, there are a few things you need to keep in mind. Therefore, the components of multideck are one of the most intriguing aspects. It's a massive piece of equipment, so you'll need a roomy setting in order to accommodate these screens.
Additionally, a variety of widths and heights of multidecks are available. This allows you to select the height and size best for your needs.
As the restriction increases with each square foot of storage space, taller cabinets have larger limits. Therefore, it encourages business owners to showcase a diverse array of products. If you only have a small amount of room to work with, these are fantastic options for making your product results stand out.
If you face any problem from zero to hero, it is time to leave it behind to Cold Direct with its cost-effective and amazing Display Fridge Repair.
Types of Display Fridge Multidecks
These are just a few examples of types of display fridge Multideck. The choice of multideck depends on the specific requirements, available space, and the type of products being displayed.
Stores including supermarkets, convenience stores, and restaurants often make use of multideck refrigerators, also known as commercial display refrigerators or open-front display refrigerators. Multideck refrigerators, as opposed to multidesk refrigerators, are built with business needs in mind.
Typically, the shelves or display decks in a multideck refrigerator are horizontally aligned to maximize exposure and accessibility of the food and drinks contained therein. Customers may see and easily access the merchandise displayed in an open-front refrigerator.
Some common types of multideck fridges in commercial settings are listed below.
Flat Multideck Fridge
Most homes have the more commonplace flat Multideck refrigerator. There is plenty of room for arranging and exhibiting merchandise on its horizontally arranged, straight shelves.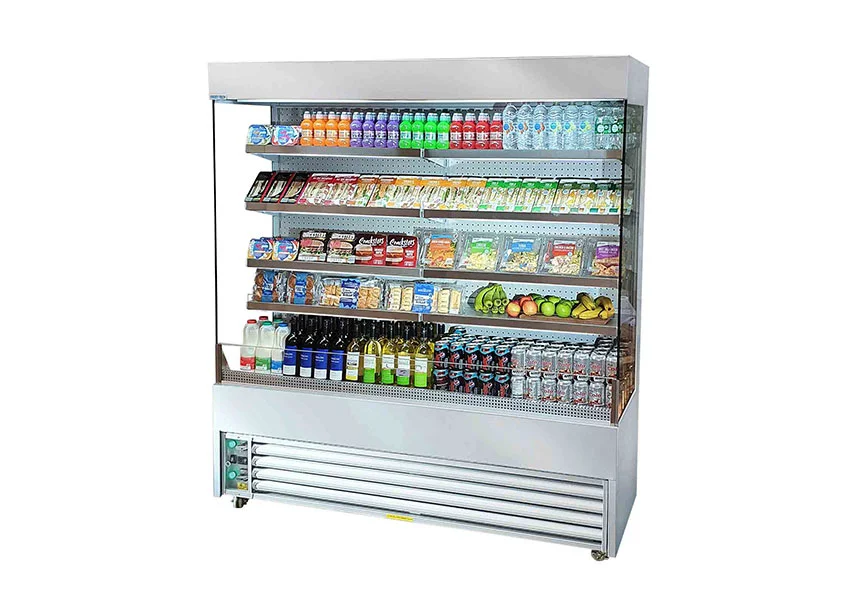 Sloping Multideck Fridge
Some multi-deck refrigerators have shelves that slope downward, making it simpler for consumers to see and access items located in the back of the fridge. The slanted layout improves customer access and product exposure.
Sloping Multideck Fridge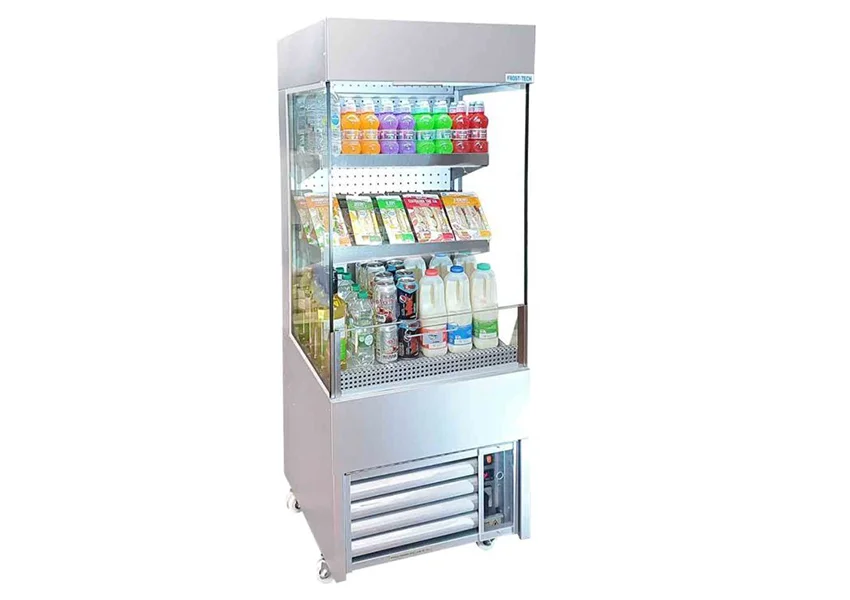 Multideck Chiller
These coolers have multiple levels to keep food and drinks at the perfect temperature for long periods of time. They typically have amenities like programmable thermostats, indoor lights, and doors that shut automatically after office hours.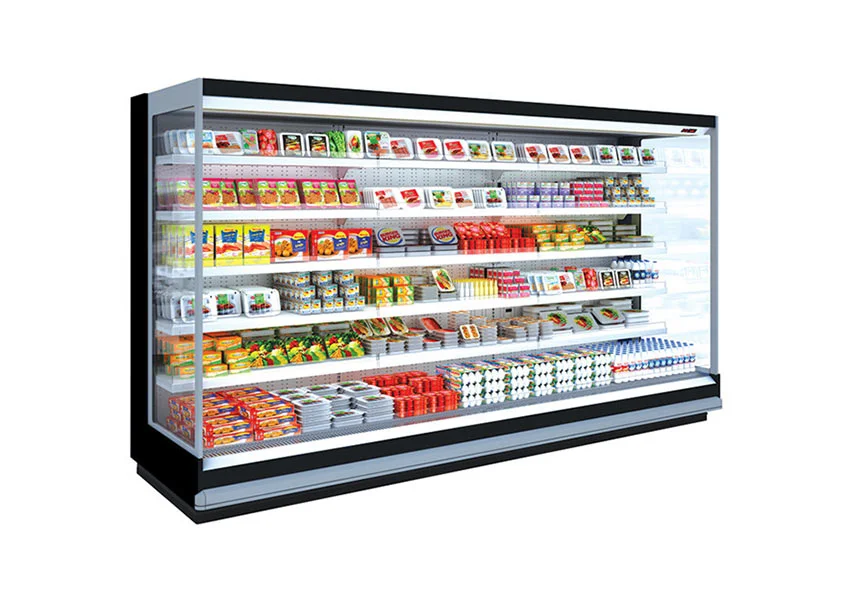 Multideck Freezer
Comparable to multideck chillers, multideck freezers are able to keep food at sub-zero temperatures. These refrigerators and freezers typically include see-through doors or lids so you can see what's within.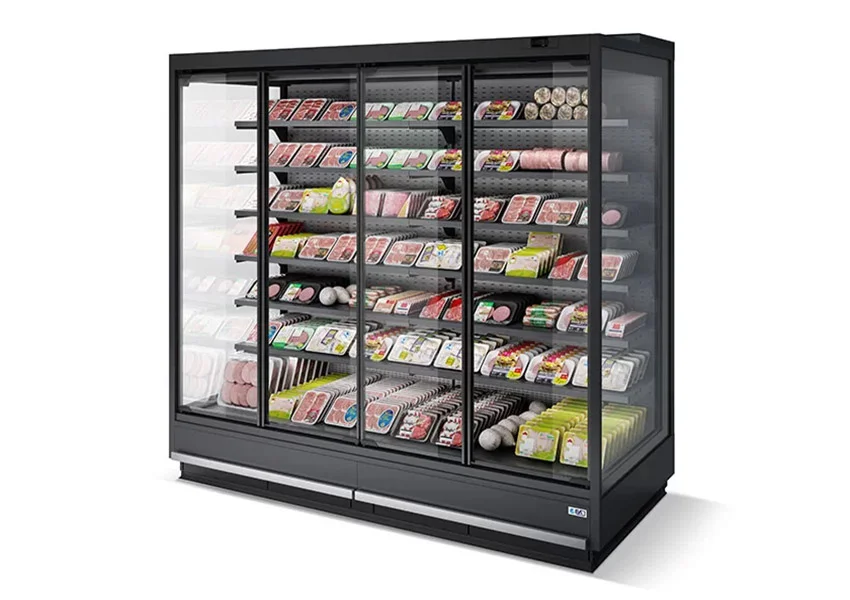 Slimline Multideck Fridge
The width of a slimline multi-deck refrigerator is less than that of a regular multi-deck refrigerator. Because of their compact size, they can be placed in regions with limited floor space without sacrificing display capacity.
Depending on the needs of a specific business, a wide range of sizes, layouts, and features of multideck refrigerators are on the market.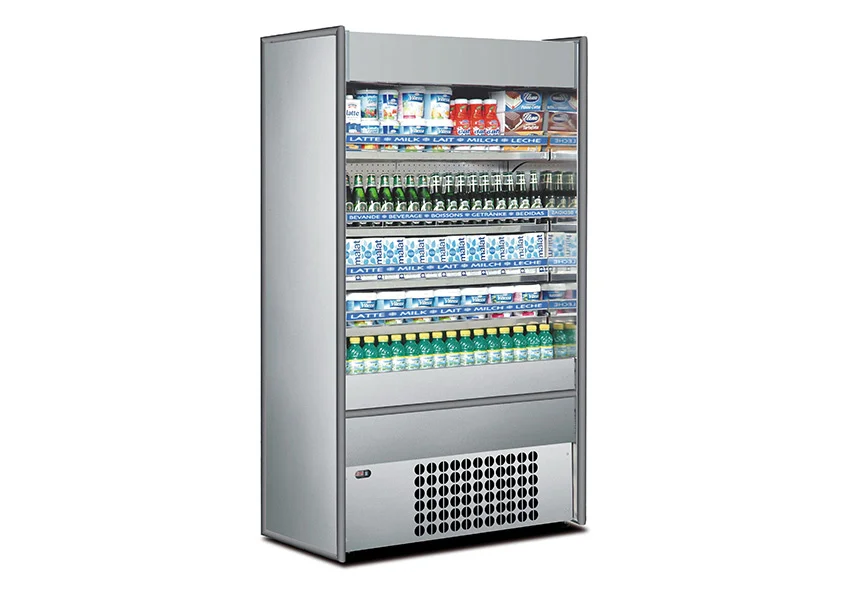 Conclusion
The multideck is an essential component because of how much room it may save in the kitchen. For those who want to install a built-in bar at their homes, restaurants, or cafes, this display refrigerator is as useful as it is affordable.
We provide expert advice on the machine's care, installation and repairs. If that's the case, then today is the day to make your purchase.
If you need any help with Commercial Appliance Repairs of different types varying from fridge chiller multideck to ice cream makers.